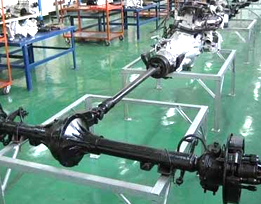 The inspection and maintenance of the drive shaft vary with the driving vehicle in different ways.
For a rear wheel driven vehicle, the drive shaft is used for two unequal universal joints. If the clutches start at the start of the clutch or speed up and slow down the bottom of the car, it means that the unequal speed universal joint needs to be replaced.
Another way of checking is to grasp the transmission shaft around the bottom of the car and shake it around. If the rotation angle exceeds 45 degrees, it means that the gap of the joint of the constant speed universal joint is too large and needs to be overhauled.
The drive shaft of the front wheel drive uses an isokinetic universal joint, and a rubber sleeve is sealed in the joint part. The owner must check the condition of the rubber sleeve frequently. Because once damaged, the sand will run into the universal joint in the running, accelerated wear, short life.
Check the rubber sleeve is broken easily if in the vicinity of a rim and a motor base found extremely viscous oil, or when driving the steering wheel up there will be pa sound, show that the universal joint is damaged, should be replaced.
In addition, the owners should try to avoid in situ hit the steering wheel, because it will cause the cardan joint due to overload and short service life.