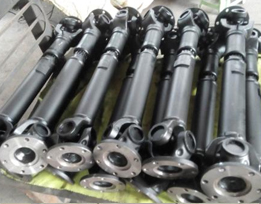 The cause of the common fault of the drive shaft and the ways to remove it: one of the faults, the swinging of the drive shaft, or the vibration of the vehicle when driving.
Fault phenomenon: when the vehicle is traveling, obviously feel a strong vibration in transmission system periodically to the body, but also accelerated and coasting is significantly different when the vehicle stops, the engine speed in all operation this vibration disappeared.
Reasons and methods of exclusion:
1, the assembly direction of the cardan fork is not consistent. Troubleshooting: re combination;
2. The transmission shaft is twisted or bent. Troubleshooting: repair or replacement;
3, the components are loose or the dynamic unbalance is large. * elimination: repair or replacement, dynamic balance.
Fault two, transmission shaft noise:
Failure phenomenon: when the car is driving, it is obviously heard the abnormal sound of the transmission shaft, especially in the shift. The sound decreases or disappears when the speed is stable.
Causes and methods of exclusion:
1. Overwear of the telescopic spline. Troubleshooting: should be replaced;
2, universal joint bearing wear, bite, damage. * elimination: replace the cross shaft bearing;
3. The bearing of the middle support is worn or burned. Method: to replace components;
4. The fastener is loosed. Troubleshooting: re tighten.
Fault three, universal joint or intermediate bearing heating:
Failure phenomenon: after a mileage of the car, it is found that the grease liquefaction at the middle bearing is dripped out of the oil seal, and the part is burned by the hand.
Reasons and methods of exclusion:
1, universal joint bearings or intermediate bearings lack of oil. Troubleshooting: grease;
2. The middle support bracket is not fitted. * elimination: correction support and drive shaft vertical bearing;
3, the oil seal is too tight. * elimination: should be low running and in edge gas;